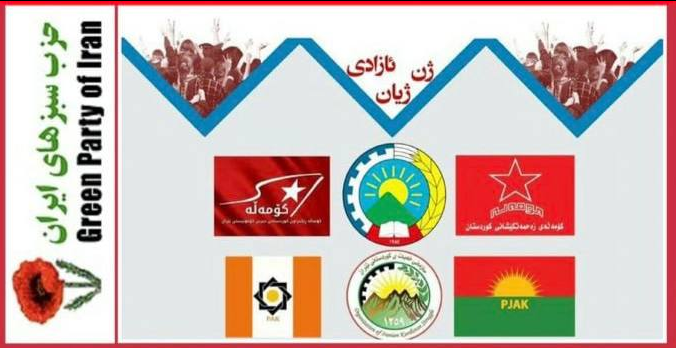 The Green Party of Iran calls on the Iraqi government and the authorities in the Kurdistan Region to stand up against the threats posed by the Islamic Republic towards Iranian Kurdish organizations, their families, and the refugee camp in the Kurdistan Region of Iraq.
Iranian Kurdish organizations have called for a general strike in Kurdistan, Iran on "Mahsa Day," which falls on September 16, 2023. As a result, the Islamic Republic, fearing a popular uprising in Kurdistan, has carried out extensive arrests in the cities of Kurdistan in recent weeks, right before the first anniversary of the Jina-Mahsa-Amini Revolution for "Women's Lives, Freedom." Additionally, they have threatened further military action against opposition Kurds in the Iran-Iraq border region.
In this context, the regime of the Mullahs in Iran has warned the Iraqi government and the authorities in the Kurdistan Region that they will intensify their violent pressure on the Democratic Party of Iranian Kurdistan (PDKI) and other Iranian Kurdish parties.
The most recent of these terrorist threats came from Nasser Kanaani, spokesperson for the regime's Ministry of Foreign Affairs, on September 12, 2023, in Tehran. According to him, the Islamic Republic of Iran has set September 19 as the final deadline for the dissolution of the headquarters of Iranian Kurdish parties.
The United Nations, the United States, and the coalition forces in Iraq have a human rights duty to prevent the anticipated rocket and drone attacks by the Iranian regime on the camp of Iranian Kurds in the Kurdistan Region of Iraq. This is a moral obligation for the USA and the coalition forces, which must be strictly adhered to, in order to prevent the regime from repeating the horrendous murders and numerous violations against civilians and innocent people as it has done in the past.
As the spokesperson of the Green Party of Iran, I also call on the German Foreign Minister Annalena Baerbock to take immediate and effective measures against the aggression of the Tehran towards Iranian Kurdish parties in the Kurdistan Region of Iraq. The international community must not continue to remain silent while the Iranian regime turns Iraq into a backyard for its state terrorism. Dr. Kazem Moussavi September 13, 2023