Oct 31st, 2013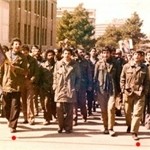 Kayvan Kaboli
To commemorate the anniversary of the attack on the US Embassy in Iran, by students claiming to be followers of Ayatollah Khomeini, that lead to holding the American diplomats hostage for 444 days, a statement was issued in Iran by a newly born organization called "the committee for the safeguard of Iranian interests". The statement calls for declaring this coming Friday as international day of "Conquering American Spy Nets Day", citing the recent reports about NSA surveillance scandals.
While Iran's new president and his foreign minister try to assure the west that hostage taking days of the revolution are officially over, the infighting among ruling factions in Iran has intensified in recent days over the use of the "Death to America" slogan. Last week streets in Tehran were decorated with large and fancy billboards and banners overnight, warning people to be cautious of American deceptions. Later, Tehran's mayor ordered to take down those billboards and banners. IRGC and hardliners, subsequently, objected to the order.
In an attempt to instigate Muslims in the Middle East and around the world against Israel, 33 years ago Ayatollah Khomeini, the founder of Iranian current regime, had declared the last Friday of the month of Ramadan as "Ghods Day" (Jerusalem Day). Since then, every year in this day, demonstrations are organized by Iranian regime in Iran and major Muslim communities worldwide to spread the slogan: "Death to Israel".
The move to duplicate the Ghuds Day and designating a specific date to promote "Death to America" primarily should be interpreted as showing muscles to Rouhani by ruling faction and to undermine his recent diplomatic efforts in nuclear negotiations with p5+1.
Considering Rouhani and Zarif's incapacity and ineffectiveness, can world and western negotiators rely on regime's promises to end the nuclear crisis? This is a question that will be answered in next round of talks in Geneva.