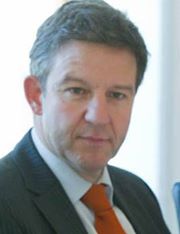 *- Dr. Kazem Moussavi
Markus Potzel, the head of the Middle East Division in German Foreign Office is one of the most passionate advocates of the appeasement policy toward Iran. His last attempt in this direction failed due to strong protests by Iranian community in Germany. This Office had planned to sponsor an event on June 4, 2014 in which Iranian Ambassador Alireza Shekh Attar and Potzel would be the key speakers to preach better relation with the Iranian regime.
Mr. Putzel's persistent efforts to appease the Iranian regime also include attacking Iranian opposition groups and sponsoring events that aim to undermine international sanctions against Iran.
On April 19, 2013, Mr. Putzel held a meeting with Ali Akbar Rastgoo who is considered to be an Iranian intelligent agent (Picture). According to Der Spiegel, Ali Akbar Rastgoo is one of the Iranian regime's agents in Germany who carries regime's agenda against Iranian dissidents.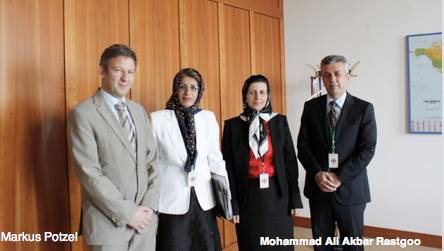 Markus Potzel is leading the German Foreign Office in a wrong direction on Iran's policy. Since Hassan Rouhani became president, the human rights violations in Iran have increased and Iran's sponsorship of terrorism and regional expansion have continued with a greater pace.
German's Government and Foreign Office should examine Mr. Putzel activities that benefit the Iranian dictators and mislead politicians and public opinion.
*- Dr. Kazem Moussavi is the spokesperson of Green Party of Iran in Germany